PMP Exam Preparation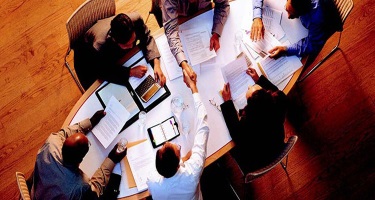 About This Course
PMP Exam Preparation course is designed to help you prepare for the PMP Exam, the course is designed to help professionals and beginners to learn how to manage project efficiently & effectively through the Project Management Life cycle.
PMP Exam Preparation course target different audience, beginner who just begin into project management and professional project managers who are planning to clear their PMP exam.
PMP Exam Preparation course will cover the 5 process group, 10 Knowledge areas, and 47 processes, this course is delivered by instructor who have years of experience in training and who have been managing project with some of the top organizations.
PMP Exam Preparation course require to have the Official PMP Pmbok 5th Edition.
Student will have access to some of the best materials, PM templates, and banks of questions.
What are the requirements?
PMP Exam Preparation course require to have the Official PMP Pmbok 5th Edition
What am I going to get from this course?
Understand Project management methodology
Pass the PMP Exam
What is the target audience?
Candidates who want to get into project management.
Candidates who need to gain some management skills.
Project managers who wannt to clear thier PMP Exam.
Course Staff
Mohamed Atef
Certified Instructor with more than 15 years of experience.
ICT Consultant and certified instructor with more than 20 years of experience deliver professional and academic courses and 2 books published.
Certified Information System Security Professional (CISSP) ID #517943
Microsoft Certified Trainer (MCT) ID #3022752
EC Council Certified Instructor (CEI) ID #ECC51750391761
CEH: Certified Ethical Hacking ID #ECC64515022319
Certified Cisco System Instructor (CCSI)
Microsoft Certified System Engineer (MCSE)
Microsoft Certified IT Professional (Windows Server Administration 2008)
CompTIA Certified (Network +) ID #
CompTIA Certified (Server +)
CompTIA Certified (Linux +)
CompTIA Certified (Security +)
Cisco Certified Network Associate (CCNA) ID #CSCO11273248
Cisco Certified Network Professional (CCNP)
Project Management Professional (PMP) ID #1772374
Frequently Asked Questions
What web browser should I use?
The EnlightMe platform works best with current versions of Chrome, Firefox or Safari, or with Internet Explorer version 9 and above.
Course Features
Lectures

66

Quizzes

0

Duration

4 Hours/Week

Skill level

Language

English

Students

2

Certificate

No

Assessments

Self
Section 1: Introduction

Lecture 1.1

Lecture 1:Introduction

Locked

Section 2: Project management introduction

Lecture 2.1

Lecture 2:Project management introduction

Locked

Lecture 2.2

Lecture 3:PMP Exam

Locked

Lecture 2.3

Lecture 4:Course Road Map

Locked

Lecture 2.4

Lecture 5:Bank of Questions

Locked

Lecture 2.5

Lecture 6:Important Defination

Locked

Lecture 2.6

Lecture 7:Types of Organization

Locked

Lecture 2.7

Lecture 8:Project Managment Office (PMO)

Locked

Section 3: Project Initiating

Lecture 3.1

Lecture 9:How to Select project ? (Important)

Locked

Lecture 3.2

Lecture 10:Develop Project Charter

Locked

Lecture 3.3

Lecture 11:Identify Stakeholders

Locked

Lecture 3.4

Lecture 12:Exam Questions

Locked

Section 4: Project Planning

Lecture 4.1

Lecture 13:Planning Introduction

Locked

Lecture 4.2

Lecture 14:Define Scope

Locked

Lecture 4.3

Lecture 15:Plan Scope Management

Locked

Lecture 4.4

Lecture 16:Collect Requirements

Locked

Lecture 4.5

Lecture 17:Create WBS

Locked

Lecture 4.6

Lecture 18:Plan Schedule Management

Locked

Lecture 4.7

Lecture 19:Define Activities

Locked

Lecture 4.8

Lecture 20:Sequence Activities

Locked

Lecture 4.9

Lecture 21:Estimate Activity Resources

Locked

Lecture 4.10

Lecture 22:Estimate Activity Durations (Important)

Locked

Lecture 4.11

Lecture 23:Critical Path Calculation (Important)

Locked

Lecture 4.12

Lecture 24:Float (Important)

Locked

Lecture 4.13

Lecture 25:Develop Schedule

Locked

Lecture 4.14

Lecture 26:Plan Cost Management

Locked

Lecture 4.15

Lecture 27:Estimate Costs (Important)

Locked

Lecture 4.16

Lecture 28:Determine Budget

Locked

Lecture 4.17

Lecture 29:Types of Expenses (Important)

Locked

Lecture 4.18

Lecture 30:Plan Quality Management Part 1

Locked

Lecture 4.19

Lecture 31:Plan Quality Management Part 2 (Important)

Locked

Lecture 4.20

Lecture 32:Plan Human Resource Management

Locked

Lecture 4.21

Lecture 33:Plan Communications Management

Locked

Lecture 4.22

Lecture 34:Plan Risk Management

Locked

Lecture 4.23

Lecture 35:Identify Risks

Locked

Lecture 4.24

Lecture 36:Perform Qualitative Risk Analysis

Locked

Lecture 4.25

Lecture 37:Perform Quantitative Risk Analysis

Locked

Lecture 4.26

Lecture 38:Plan Risk Responses (Important)

Locked

Lecture 4.27

Lecture 39:RISK CALCULATIONS (Important)

Locked

Lecture 4.28

Lecture 40:Expected monetary value (EMV) (Important)

Locked

Lecture 4.29

Lecture 41:Plan Procurement Management (Important)

Locked

Lecture 4.30

Lecture 42:Plan Stakeholder Management

Locked

Lecture 4.31

Lecture 43:Develop Project Management Plan

Locked

Lecture 4.32

Lecture 44:Planning Exam Questions

Locked

Section 5: Project Executing

Lecture 5.1

Lecture 45:Perform Quality Assurance

Locked

Lecture 5.2

Lecture 46:Acquire Project Team

Locked

Lecture 5.3

Lecture 47:Develop Project Team (Important)

Locked

Lecture 5.4

Lecture 48:Manage Project Team (Important)

Locked

Lecture 5.5

Lecture 49:HR Theory (Important)

Locked

Lecture 5.6

Lecture 50:Manage Communications

Locked

Lecture 5.7

Lecture 51:Conduct Procurements (Important)

Locked

Lecture 5.8

Lecture 52:Manage Stakeholder Engagement

Locked

Lecture 5.9

Lecture 53:Direct and Manage Project Work

Locked

Lecture 5.10

Lecture 54:Execute Exam Question

Locked

Section 6: Monitoring and Control

Lecture 6.1

Lecture 55:Validate Scope

Locked

Lecture 6.2

Lecture 56:Control Scope

Locked

Lecture 6.3

Lecture 57:Earn Value Managment (EVM) (Important)

Locked

Lecture 6.4

Lecture 58:Estimate New bugest and new schedule (Important)

Locked

Lecture 6.5

Lecture 59:Control Costs

Locked

Lecture 6.6

Lecture 60:Control Procurements

Locked

Lecture 6.7

Lecture 61:Preform Integrated Change Control

Locked

Lecture 6.8

Lecture 62:Monitor and Control Exam Question

Locked

Section 7: Project Closing

Lecture 7.1

Lecture 63:Close Project or Phase

Locked

Lecture 7.2

Lecture 64:Close Procurment

Locked

Lecture 7.3

Lecture 65:Closing Exam Question

Locked

Section 8: Get Ready for the Exam

Lecture 8.1

Lecture 66:Get Ready for the Exam

Locked